Your 3D Printer Can Fight Covid-19
AstroPrint Clusters helps our nurses and doctors get Personal Protective Equipment (PPEs) they need to stay safe, printed by the awesome 3D Printing community.
How it Works
Here's a quick overview of how the platform works. We'll be releasing more details/documentation in the days to come. You can also find more detailed info under
More Info
.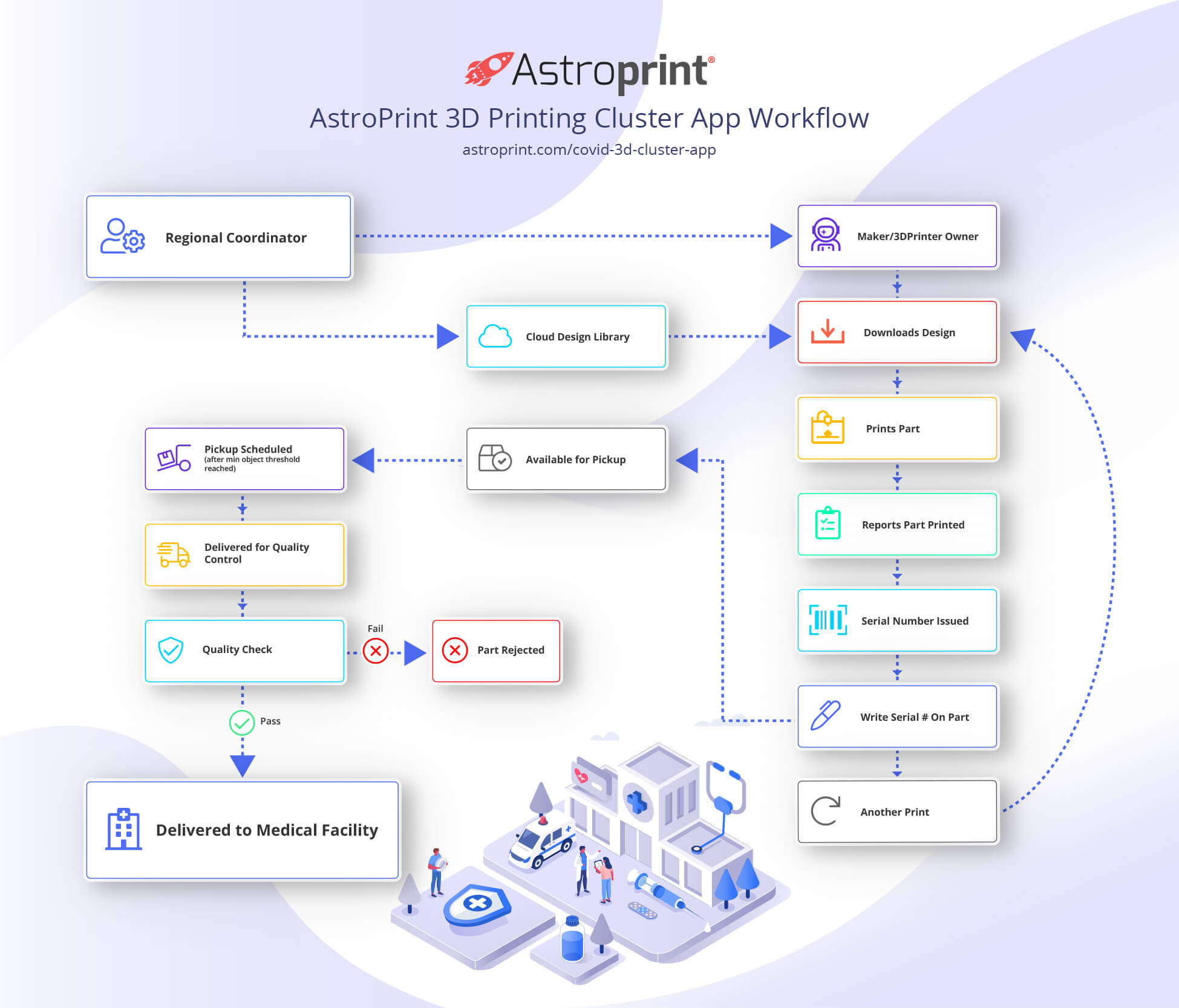 Regional Coordinators
Can create connections with Medical Facilities
Can manage logistics of part pickup/delivery
Wants to help save lives. :-)
3D Printing Hero
You own at least one 3D printer (any technology is fine)
You are willing to donate materials/filament
You are ready to save lives with your 3D Printer!
---
More Info
LAUNCH DATE: 100% of of the AstroPrint engineering team is working on this application. We expect it to be available ~April 1. Please sign up to get notifications of when it's live.
White Paper: Here is a white paper on how teams in Spain are running 3D Printing clusters. (Prior to the launch of the AstroPrint software.) View white paper here.
Who we are and why we're doing this: Most of the AstroPrint team is based in Malaga, Spain, and is therefore right in the middle of the fight against C19. This is hitting very close to home (literally) for everyone in our company. We began speaking to groups that are already 3D Printing PPEs for medical facilities in Spain to find out how we can help. It turns out that although many many people are volunteering to help, when it comes to software helping with logistics, not a lot was getting done. The software volunteer teams forming were groups of people that never worked together, and were trying to start building complex applications from scratch. We saw that if we took our team of engineers and UX designers, that have worked together closely for years, and leveraged a lot of the code already powering the AstroPrint 3D Printing Software platform, we could VERY QUICKLY create software that helps these organizations 3D Print at a much higher scale, and therefore help many more medical professionals have the protection they need. Our mission now is to leverage our software and engineering team to help local organizations scale up 3D Printing of medical supplies. We're starting with Spain now, and then will release accessibility to the platform to the rest of the world. Of course, we are not charging for any services related to Covid19 relief efforts!
Still have questions? Contact Us
About AstroPrint

AstroPrint Solutions

Company

Blog